Advanced Auricular (Ear) Acupuncture Diploma Course
4 modules in
Ear Acupuncture for musculo-skelital conditions
4 modules in
Auricular Acupuncture for Common Health Conditions
This Course can be completed using either Needles or Magnets
The cost of the course is £1120
30 Contact hours with 96 home study hours over 8 months
Saturday afternoon 1- to 5 pm
Next course dates:
2014
20 Sept 2014
25 October 2014
22 November 2014
13 December 2014
2015
21 February 2015
21 March 2015
18 April 2015
16 May 2015
Duration: Flexible (completion of all modules at your own pace) (approx 8 months)
Module Day Times: Saturday Afternoons 1-5 pm
Cost: £1100
Location
University of London
International Hall Meeting Room or Conservatory
Lansdowne Terrace London WC1N 1AS

Advanced Auricular Acupuncture Diploma Course taught by Paul Robin FAcS MPCHM MCAA Head of The College of Chinese Medicine
Course Objectives
Pain
Ear Acupuncture for musculo-skelital conditions
The course centres on specialised auricular acupuncture treatment for Musculoskeletal conditions. Auricular acupuncture is a powerful therapeutic technique which can make a valuable contribution to patient rehabilitation and is a practical, usefull & effective technique available to professional therapists.
Health
Advanced study of Auricular Acupuncture Formulars for health Conditions commonly found in clinical practice
This diploma course practical professional training course to enable students to achieve high standards of competance, safety and confidence as practitoners of Auricular Acupuncture.
The course consists of 2 key modules: Ear Acupuncture for musculoskelital condition and for common general health conditions
Students will be practicing on each other under supervision in a clinical environment from their very first lesson as well as being taught the theoretical understanding of what they are learning because TCM is a practical subject and is best learnt in a practical way.
There are 8 contact days over 8 months
4 Day Pain Modules
4 Day Health Modules
Provided all modules are successfully completed graduates will be awarded our Advanced Auricular Acupuncture Diploma
The syllabus includes point location on each other with an electronic locator and needle practice on an ear modal as well as on fellow students, pictures are taken to show the correct positioning of needles and explanations are given about the contra indications and side effects, when to decline to treat someone, treatment outcomes, safe application, hygiene, safe withdrawal and disposal of needles, the importance of wearing gloves during needle withdrawal.
 
How to avoid syncope, stop bleeding safely, and revive a client from syncope or weakness following treatment. This includes safe positioning of patients to avoid accidents and incidents, how to avoid needle stick injury.

How to use an electrical point locator and how traditional Chinese practitioners use probes and cauterisation, the use of magnets vs press needles (which are not recommended), stimulation methods, the different systems of French, English and Chinese versions of point location, history, ethics, how to take case histories, student insurance requirements and acupuncture society student registration. 

We ask students familiarise themselves with Acupuncture Societies ethical code and rules of professional behaviour.  Optimal Treatment durations are discussed

Scientific research study is encouraged is and research into the possible mechanisms of how auricular acupuncture works. We also teach relevant TCM theory and auricular anatomy.
This course is taught by Paul Robin  Head TCM at The College of Chinese Medicine and Chairman of the Acupuncture Society.
This object of this course is to achieve standards set out by the Acupuncture Society Accreditation process and is a professional training diploma course in a complete system of clinical application Auricular Acupuncture for conditions frequently found in clinial practice.
The emphasis is on achieving set standards of practical and clinicial training. Students will be treating each other during the modules and through clinical experiance combined with TCM theory to learn practical clinical skills in there correct setting.
The course will cover relevant Chinese and Auricular anatomy and Health conditions which are treatable with Auricular Acupuncture. Students will be tested on the contents of each module.
This course is taught in the same practical way that a practitioner would treat their patients, this is the way masters taught students in China through the centuries.
We hear the patient describe their symptoms and explain any western medical diagnosis they may have been given, then we use a combination of traditional Chinese and Modern Western methods to identify signs and formulate Auricular Acupuncture formulars which most appropriate to treat the condition
Modules
Musculoskelital Modules
1-4
Anatomy & Topography of Ear, Insertion Practice and Stress formula Practical Clinical Treatment

Upper Extremity Points & Treatment Formulas for Neck, Shoulder, Elbow, Wrist & Fingers and Clinical Treatment

Lower Extremity Points & Treatment Formulas for Back, Hip, Knee, Ankle & Toes and Clinical Treatment

Head Points & Treatments for Headache, Toothache, Trigeminal Nerve & Jaw Pain and Clinical Treatment
Health Modules 1 to 4
Common conditions found in Clinical Practice
Digestive, Menstrual, Endocrine, Circulatory, Respiratory, Genito Urinary, Viral, Chest and Abdominal Pain, Tremor, Stroke, weight control, Neurological etc.
Content
Each module is will cover point location practice, ear anatomy and clinical treatment application on each other and patients

The course focuses on points and formulas to treat musculoskelital, traumatic, sports and orthopaedic conditions and treatment of chronic and acute general health conditions

The emphasis of the course is on the practical application of auricular acupuncture - how to accurately locate ear points, and how to effectively needle them.
You will cover basic TCM and acupuncture theory, anatomy of the ear, general concept of auricular therapy, health and safety issues and precautions/contraindications for auricular acupuncture.

For more information about this course
Contact Paul on 0773 4668402 or acusoc@yahoo.co.uk

Members of the Acupuncture Society who have qualified on this course, are entitled to use the initials MAcS AUD after their names.

To complete the course students are required to carry out and submit 10 case studies between modules.
Successful graduates will be awarded our Advance Diploma in Auricular Acupuncture and will be accepted as a members of the Acupuncture Society. (annual membership £100 and student and proffessional indemnity cover cover can also be arranged)
Western and traditional qualified acupuncturists & acupuncture students. Massage & other body worker therapists, doctors, nurses, physiotherapists, osteopaths, chiropractors & other heath workers with anatomy & physiology.
PLEASE READ OUR TREATMENT SAFETY CHECK LIST BELOW BEFORE ATTENDING CCM COURSES:
The list below is a student safety guide used prior undertaking a CCM course. We aim to protect the health and safety of students in training and also those they practise on during and after the course.
If you suffer from any of the conditions listed below or other conditions which have not been included that you feel are relevant, please inform us prior to class treatments so that we can assess you suitability for such treatment.
Where there is any doubt please consult your GP.
- A recent operation
- An untreated medical condition
- Severe Bone or joint disorders (Rheumatoid/Osteo arthritis, osteoporosis)
- Cardiovascular disorders (high blood pressure, heart / circulatory desease, thrombosis)
- Diabetes
- Endocrine disorders
- Epilepsy
- Drug addiction or recent use of cocktails of recreational and prescribed drugs and or exessive alcohol consumption
- Medication
- Pregnancy (or post natal)
- Severe skin disorders
- Severe mental illness
- Spinal injuries
- Prone to fainting
- If you suffer from infectious deseases like hepatitis b or HIV
You must also have eaten about 2 hours prior to treatment (please inform tutor if you haven't
- If there anything else we should know about your health, please let the tutor know.
- The same proceeding is required prior to treating your clients or during assignments
The cost of this unique Advanced Diploma Course in Auricular Acupuncture is £1120
(Please note that course fees are non-refundable)
Fees are directly payable by chq's made out to your course tutor account
CCM cannot accept payment on behalf of each individual tutor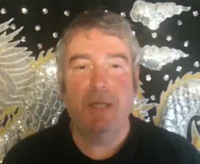 Paul Robin FAcS MPCHM MCAA
Head of the College of Chinese Medicine TCM faculty Chairman of the Acupuncture Society
Paul Robin has been teaching and practicing Traditional Chinese medicine for over 20 years. He was trained in the Fook Sang style by Dr Ac Bernard Kai Lam Lee (who was a TCM specialist brought over from China by the British Acupuncture Association) and qualified in 1987. Paul was Dr Lees full time apprentice and assistant for 9 years during which time he conducted research and lectured at the Fook Sang courses held at Imperial College and was President of the Fook Sang Acupuncture and Chinese Herbal Practitioners Association.
In 1994 Paul founded the College of Chinese Medicine and some years later founded the Acupuncture Society in order to establish Chinese style Acupuncture and Chinese Medicine in the UK.
Paul specializes in Spinal, Traditional and Chinese Medical Style Deep Needling Acupuncture, Authentic Chinese Needle manipulation techniques Traditional Chinese Diagnosis and complex Chinese Herbal formulations.
He represents the Acupuncture Society in the Acupuncture Stakeholders Group which is working with leading members of the profession toward the future regulation of Acupuncture and Chinese Herbal Medicine and preparing for the professions inclusion into the NHS.
Paul lectures at the College of Chinese Medicine and is also a specialist TCM consultant at the Clinic of the College of Chinese Medicine Teaching Clinic at 1 Harley Street.Central London



Read more of Paul Robins News Comments on:
Please submit this form and the course tutor will respond to your email to inform you of whether you have been accepted.
Successful graduates from this course can apply for membership of the Acupuncture Society are entitled to use the abbreviations MAcS after their names the society can also arrange professional indemnity insurance at a very competitive members preferential rate
all members must be insured and log 15 hours of CPD per year (8 hours courses/seminars/workshops and 7 hours home study/research)
Acupuncture Society Application Form
if they join the Society and adhere to its code of ethics rules and regulations and supply copies of their insurance.
Acupuncture Society members are exempted from Local Authority Licensing in many areas including Greater London please check with your local authority.
The annual membership to the Acupuncture Society is £100
The College of Chinese Medicine
Thank you for your application!
Your course tutor will contact you as soon as possible.
If you do not receive a reply within the next few days please call the course tutor.