Facial Cupping, Gua Sha & Cosmetic Acupuncture Workshop CPD and Certificate Course
Options:
1 Afternoon attendance
(Workshop CPD) (8 CPD Credits) £120
2 Afternoons attendance
(Certificate Course) (16 CPD Credits) £240
For more information about this course

Contact Paul Robin on 0773 4668402 or acusoc@yahoo.co.uk
NEXT COURSE DATES
Saturday 21st March 2015
1 to 5 pm
Saturday 20th June 2015
1 to 5 pm
Cost:

Location
The College of Chinese Medicine at
University of London
International Hall
Meeting Room
Lansdowne Terrace
London WC1N 1AS

Learn
Correct application of Facial Cupping and Gua Sha and about correct usage of carrier oils for skin rejuvanation, youthful look, elasticity and tone
Both these techniques have outstanding effects on skin tone and elasticity resulting in clients often appearing to look up to 10 years younger within a few hours following treatment.
Gua Sha will redden the skin to allow for Blood and Qi to come to the surface and initiate the healing and stimulation of collagen and elastin this is done through friction pressure.
Whilst facial cupping also brings Blood and Qi to the surface to flush and plump up the skin reducing contours, fine lines and wrinkles but this is acheived through suction.
They are both very simply to apply and are mutually complementary. They also can help smooth facial contours and improve facial apprearance, fine lines, sagging, wrinkles and colour
The carrier oils will also add to this overall skin rejuvination and youthful appearance effect
Correct Application of Carrier Oils
Also on this course we teach the correct application of 10 useful carrier oils
Oils are chosen specifically for each type of skin and how to choose between them to help the skin tone and condition of a particular client and these oils are used in both Gua Sha and Facial Cupping treatments

Acupuncturists
The cost of this unique and highly specialised CPD course is:
£120 for 1 afternoon CPD Workshop
£240 for 2 aftenoons Certificate Course
(Please note that course fees are non-refundable)
Fees are directly payable by chq's made out to your course tutor account
CCM cannot accept payment on behalf of each individual tutor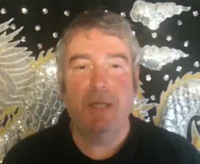 Paul Robin FAcS MPCHM MCAA
Head of the College of Chinese Medicine TCM faculty Chairman of the Acupuncture Society
Paul Robin has been teaching and practicing Traditional Chinese medicine for over 20 years. He was trained in the Fook Sang style by Dr Ac Bernard Kai Lam Lee (who was a TCM specialist brought over from China by the British Acupuncture Association) and qualified in 1987. Paul was Dr Lees full time apprentice and assistant for 9 years during which time he conducted research and lectured at the Fook Sang courses held at Imperial College and was President of the Fook Sang Acupuncture and Chinese Herbal Practitioners Association.
In 1994 Paul founded the College of Chinese Medicine and some years later founded the Acupuncture Society in order to establish Chinese style Acupuncture and Chinese Medicine in the UK.
Paul specializes in Spinal, Traditional and Chinese Medical Style Deep Needling Acupuncture, Traditional Chinese Diagnosis and complex Chinese Herbal formulations.
He represents the Acupuncture Society in the Acupuncture Stakeholders Group which is working with leading members of the profession toward the future regulation of Acupuncture and Chinese Herbal Medicine and preparing for the professions inclusion into the NHS.
Paul lectures at the College of Chinese Medicine and is also a specialist TCM consultant at the Clinic of the College of Chinese Medicine in Harley Street.



Read more of Paul Robins News Comments on:
Please submit this form and the course tutor will respond to your email to inform you of whether you have been accepted. If you have any queries about this course please contact
Paul Robin on 0773 466 8402 or email: acusoc@yahoo.co.uk
Successful graduates from this course can apply for membership of the Acupuncture Society are entitled to use the abbreviations MAcS after their names the society can also arrange professional indemnity insurance at a very competitive members preferential rate
all members must be insured and log 15 hours of CPD per year (8 hours courses/seminars/workshops and 7 hours home study/research)
Acupuncture Society Application Form
if they join the Society and adhere to its code of ethics rules and regulations and supply copies of their insurance.
Acupuncture Society members are exempted from Local Authority Licensing in many areas including Greater London please check with your local authority.
The annual membership to the Acupuncture Society is £50
The College of Chinese Medicine
Thank you for your application!
Your course tutor will contact you as soon as possible.
If you do not receive a reply within the next few days please call the course tutor.