Make Your Own Healing Balms and Oils with Chinese Herbs
4 contact hours with 12 hours of CPD credits
Next admission date
Saturday 17th May 2015 10 am to 1-30 pm
Cost including Balm and Oils to take home : £90
Location
University of London
International Hall
Meeting Room or Conservatory
Lansdowne Terrace
London WC1N 1AS
Teacher : Paul Robin FAcS MPCHM MCAA
Duration :4 hours
Time :Saturday or Sunday Morning
Home Study : 8 hours
Fee : £90 including Certification

Learn
Learn to formulate Chinese herbs to make balms,oils and ointments to treat musculoskelital, traumatic, sports and orthopaedic conditions

Content
This Course is for those interested in how to use Chinese Herbs topically for musculoskeletal ailments, sports, traumatic and marshall arts injuries, rheumatism, arthritis, bruises and sore muscles, to stop pain, reduce swelling, inflammation, disperse blood stagnation and stop bleeding (Dit Da Jow).
The herbs are be applied topically as a medicated balm or oil after or as a treatment by a qualified practitioner to the traumatised area to provide an anti-inflammatory, blood moving and anti-rheumatic affect which can promote faster healing,
Herbs are selected for each balm/oil formular for a required affect in a particular area. This course is designed for these balms to be used as an aid to support treaments carried out by a practitioners rather for direct sale to the public and have been commonly in use for many centuries by practitioners of marshal arts and in trauma departments with TCM hospitals in China.
The herbs can be applied as a balm or oil after the treatment to the affected area. The balms and oils can also be a treatment on thier own just by the absorbtion of the herbal medication to the affected areas.
These healing treatments work well during massage, tuina, acupressure, thai and other bodywork therapies also after acupuncture, chiropractic, osteopathy and physiotherapy treatments..
We will cover how to use carrier oils and beeswax as a base for making medicated oils and balms with the correct proportions and ratios discussed in class and we actually prepare them for a practical hands on experiance.
We will discuss and show samples of around 30 Chinese herbs which have been used over the centuries for the healing of wounds, rheumatism, arthritis, sprains, contusions, concusions, fractures, cuts, bruises, traumatic injuries caused by accidents or martial arts common conditions like stiff neck, back, knee, ankle, wrist pain etc
Martial artists who get bruising and bone fractures in their training would also benefit from this course. There is a specialised aspect of martial arts training called Iron Palm and another aspect called Iron Body. These training methods use a formulas classified under Dit da jow which we teach on this course.
This is also an introductory lesson to the full 2 year Degree Level Diploma course in Chinese Herbal Medicine and all participants will be able to take home the samples of balms and oils which they made during this course.
For more information about this course

Contact Paul Robin on 0773 4668402 or acusoc@yahoo.co.uk
This course is for health professionals and practitioners who are interested in how to use Chinese Herbs for musculoskeletal ailments, sports injury and traumatic injury, bruises and sore muscles, to stop pain, reduce swelling and inflammation and disperse blood stagnation to assist them in their practice. It would be relevant for acupuncturists, osteopaths, physiotherapists, chiropractic practitioners as well as sports massage, tuina, thai, acupresure and other types massage therapists and marshall arts trainers.
The cost of this unique and highly specialised half day CPD course is £90
(Please note that course fees are non-refundable)
Fees are directly payable by chq's made out to your course tutor account
CCM cannot accept payment on behalf of each individual tutor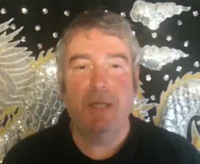 Paul Robin FAcS MPCHM MCAA
Head of the College of Chinese Medicine TCM faculty Chairman of the Acupuncture Society
Paul Robin has been teaching and practicing Traditional Chinese medicine for over 20 years. He was trained in the Fook Sang style by Dr Ac Bernard Kai Lam Lee (who was a TCM specialist brought over from China by the British Acupuncture Association) and qualified in 1987. Paul was Dr Lees full time apprentice and assistant for 9 years during which time he conducted research and lectured at the Fook Sang courses held at Imperial College and was President of the Fook Sang Acupuncture and Chinese Herbal Practitioners Association.
In 1994 Paul founded the College of Chinese Medicine and some years later founded the Acupuncture Society in order to establish Chinese style Acupuncture and Chinese Medicine in the UK.
Paul specializes in Spinal, Traditional and Chinese Medical Style Deep Needling Acupuncture, Traditional Chinese Diagnosis and complex Chinese Herbal formulations.
He represents the Acupuncture Society in the Acupuncture Stakeholders Group which is working with leading members of the profession toward the future regulation of Acupuncture and Chinese Herbal Medicine and preparing for the professions inclusion into the NHS.
Paul lectures at the College of Chinese Medicine and is also a specialist TCM consultant at the Clinic of the College of Chinese Medicine in Harley Street.



Read more of Paul Robins News Comments on:
Please submit this form and the course tutor will respond to your email to inform you of whether you have been accepted. If you have any queries about this course please contact
Paul Robin on 0773 466 8402 or email: acusoc@yahoo.co.uk
Successful graduates from this course can apply for membership of the Acupuncture Society are entitled to use the abbreviations MAcS after their names the society can also arrange professional indemnity insurance at a very competitive members preferential rate
all members must be insured and log 15 hours of CPD per year (8 hours courses/seminars/workshops and 7 hours home study/research)
Acupuncture Society Application Form
if they join the Society and adhere to its code of ethics rules and regulations and supply copies of their insurance.
Acupuncture Society members are exempted from Local Authority Licensing in many areas including Greater London please check with your local authority.
The annual membership to the Acupuncture Society is £50
The College of Chinese Medicine
Thank you for your application!
Your course tutor will contact you as soon as possible.
If you do not receive a reply within the next few days please call the course tutor.